Discover The Hidden Fortune In The Used Car Business
Would you like to make Money Buying and Selling Used Cars
on and off the INTERNET,
to Dozens, Hundreds, or even THOUSANDS
of Customers Worldwide...?
These Simple To Use, Yet Incredibly Powerful Step by Step Techniques
Will Turn your Cash Investments into CAR PROFITS
and Change Your Life FOREVER!

RE: Make $500 to $3000 per month using these Easy Techniques "Partime 4 to 5 hours per week"!

I have been in the used car industry and the owner of Pacific Motors in Sacramento, California for over 25 years. I have Retailed, Wholesaled, Brokered, Bought and Sold cars all over the World. Motor Car Profits Techniques are Powerful and have made me a lot of money. I now have plenty of time for my Family, Vacations and I control my own future! This system can do the same for you!
"You Don't Need a College Education to Make Money selling Cars
But to be Successful In The Used Car Business
You Need to Understand How to Organize Your Business
And How The Used Car Business Works!"

5 Reasons to get a Car Dealer's License!

1. Get into private wholesale dealer auctions only dealers can go to - the same auctions where used car dealers get cars from!
2. No state limit to how many cars you can sell per year.
3. No wasting time hunting through ads and driving around town looking at cars.
4. Tax benefits! Deduct 100% of your gas receipts, auto repair receipts and more.
5. Buy wholesale cars for family and friends. You'll never get ripped off from a car salesman again!
Look, you don't have to be a Rocket Scientist to buy and sell used cars! But in order to protect your investments you must follow these basic principles. They are proven profit Techniques, I will teach you these Techniques and If you are not satisfied:
I will give you a 30 day Money back guarantee no questions asked!
I am not going to tell you you can make $50,000 over-night like some internet Gurus do. But I guarantee if you follow these easy to do steps, making money will not be a problem.
Buying & selling used cars full or part-time can be
a Very Profitable Business and fun!

Some Cars I buy cheap and sell for a good profit. The question is not how much you spend for the car, but is it a car you would like to sell and can you make a profit? I have invested in cars from $100 to $15,000. If you learn these techinques and start out part-time... all you have to do is sell one car a month.
Here is how it works!
If you invested $100 - $1000 and make a Profit of $500 (in 30 days) that is a 50-500% return on your money in 30 days! That is a whole lot more profit than putting your money in any Bank Savings Account where you would be lucky to make 1-3% or $3 to $30 (in one year) on your Investment.
Note: If you don't have any money at this time it will still work. I have friends who borrowed the money on a credit card or from an investor and split the profit when the car sold!
Now tell me how can you go wrong?
And what would that extra Cash Flow Mean to you?
Let's say you took it a step further and had $5,000 - 10,000 to invest and sold 1- 2 cars per month, now your talking about a good part-time business! The sky is the limit in the Used Car Business, you can create as much money as you want. There are hundreds, even thousands of great car investments every week at Dealer Auctions.

Here is what there saying about this system:
These Techinques work, I have tripled my monthly income and am looking forward to making a lot of money this year. Thanks for this Program I am deeply greatful I took this step. J.Brown, Sacramento, CA 95821
I would have never thought that this business could be so easy to make money. This is well worth the price. G. Gunn, Vacaville, CA
"With your system we started immediately, we followed what you told us to do in your program and sold 2 cars in 30 days, made a total profit of $2200. Not bad for a part-time business" -Dave and Jennifer Davis, Dallas, TX
I know you're probably still skeptical and a bit on the conservative side, but think about this - if you keep doing the same things over and over again - you'll only succeed in getting the same results. That's why I want to let you try out my proven marketing system and give you a 100% Moneyback Guarantee - No Questions Asked!
I will show you how to get a DEALER'S LICENSE,
UNDERSTAND the used car business and
how you can MAKE A PROFIT!
• How to start buying & selling cars
• How to make money as a Dealer
• How to price and buy cars
• EBay marketing secrets
• Dealerships and Autobrokers
• Step by Step Checksheet included
• Setting Goals
• Selling cars on Ebay
• Making Money on the Internet
• And more...!
This is a heck of an Investment Package!
" I only wish I had this Package 25 years ago!"
Read it now FREE
Book Mark this page, for future Reference

Take that First Step to Endless Auto Profits
PDF Formatt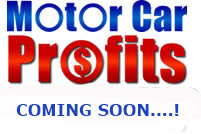 To Your Success,



Ernie
Email: ejj@pacificmotors.net
Web: http://pacificmotors.net



Copyright© 2003-2015 motorcarprofits.com, all rights reserved worldwide
Contact Us at: info@pacificmotors.net
| Contact Us | | motorcarblogg | motorcarabblog | Auto Directory | directory2 |